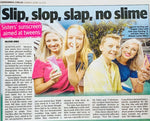 Source:  Courier Mail, Sunday, April 18, 2021

Sisters' sunscreen aimed at tweens!
Queensland identical twin sisters have created a less slimy, pleasant-smelling sunscreen to target youths who aren't getting the sun-smart message. 
Brisbane mums Angela Tallon and Joanne Harding are behind the new brand of sunscreen which targets the demographic least likely to be using the product – tweens and teens.
Queensland Health data shows in 2020, 49 per cent of children were sunburnt.
The report revealed that 32 per cent, or nearly a third of Queensland children, had been burnt five or more times – enough to increase the risk of melanoma three-fold.  It took the sisters, who work full time, more than two years to invent the product.  The twins say they were inspired to create New Day Skin after Ms Harding's daughter, Lucy, asked to try her sun-protective moisturiser over several days.  While Lucy loved it, it cost $70 a bottle, so the mums thought there had to be a better option.  The two brainstormed countless long nights and spent hours testing creams, before they convinced a chemist to help them develop their own cream.
"For kids, their interest in their well being is really starting to peak when they reach their tweens and teens, so this is a critical time to target sun care, especially for boys", Ms Tallon said.  "Unfortunately, we know there has been no significant decrease in teenage sunburn rates in the last 12 years in Australia".
Data shows almost half a million Aussie kids suffer skin damage.  "Now the Cancer Council have declared teens a priority population for the slip, slop, slap, seek and slide message we are more determined than ever to bring about positive change to attitudes towards sun protection", Ms Tallon said.