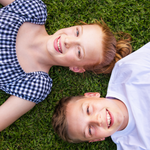 When it comes to the
safest sunscreen for kids
the reality is, any sunscreen that has been approved by the Therapeutic Goods Administration of Australia (TGA) is safe to use on children and without question, safer than not applying
sunscreen on kids
at all!  The TGA has the strictest regulations on the planet when it comes to sunscreen so it goes without saying the safest sunscreen for kids is Australian made sunscreen. All Australian made sunscreens with an SPF 15 or higher must be registered with the TGA and meet it's stringent guidelines.
There are some  other important things to consider when selecting
kids sunscreen.
Whether you are buying
sunscreen for kids
or
sunscreen for teenagers
you should always choose a sunscreen that is
SPF
50 and broad-spectrum, meaning it blocks both UVA and UVB rays. 
SPF 50 for kids
is the safest way to protect them against premature ageing and sunburn and reduces the risk of developing skin cancer later in life. If your child is going to be swimming always make sure they apply a water resistant sunscreen that offers protection for up to 2-4 hours.  Remember to reapply every two hours, especially when swimming or sweating.  
There has  been great discussion around the
best natural sunscreen
for children. Many dermatologists recommend using a physical or mineral sunscreen, which blocks the sun's harmful rays and doesn't absorb into the bloodstream like chemical sunscreens can.  Mineral formulations
are also considered better
for sensitive skin.  This is particularly important when using sunscreen on the faces of tweens and teens because this age group is going through hormonal changes and are prone to breakouts.  Mineral sunscreens aren't absorbed into their pores, therefore reduce the risk of irritation to troubled skin.
To further protect your kids from the sun, it is recommended that they wear protective clothing, a hat and sunglasses and avoid direct sunlight between the hours of 10am and 2pm.